CrossFit has become one of the most popular fitness trends in recent years, but what is it exactly? And is CrossFit right for you?
Here are a few things to consider before you decide to try your first CrossFit workout.
What is CrossFit and how does it work?
Similar to what you might have heard called high-intensity interval training, the big thing to know is that CrossFit is the most fun and effective strength and conditioning program on the planet. CrossFit exercises emphasize constantly varied functional movements that are necessary for everyday life.
CrossFit classes are almost always an hour long and include a warm-up specific to the day's activities, some time spent focused on weight lifting and strength training or skill development, and finish with the daily workout that CrossFitters call the MetCon (short for metabolic conditioning).
In short, you'll do exercises that include lifting weights (kettlebells, barbells, dumbbells), bodyweight movements (pull-ups, push-ups, jumps onto plyo boxes, etc.), and you'll also do some stuff most people would refer to as cardio—running, biking, and rowing.
You'll do all those things in short, high-intensity workouts that will turn you into an absolute physical stud.
You'll get a great workout each day that will improve your fitness and you'll be smiling the whole time.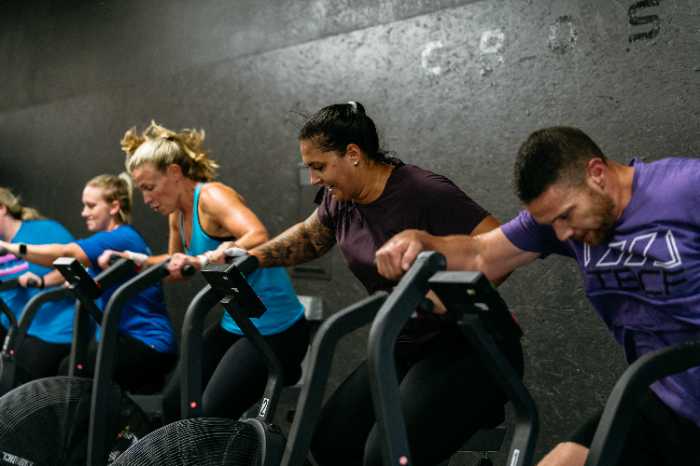 CrossFit is great for both beginners and experienced athletes.
Any particular workout of the day (WoD) can be tailored to any fitness level, making it a good choice for beginners and experienced athletes alike.
Workouts Customized for Your Skill Level
Workouts are scalable, which means they can be made more challenging or easier depending on your fitness level. In any CrossFit class, you'll find athletes of all skill levels doing the same workout…but they'll be doing the version of the workout that is best for them and their development!
For example, beginners will use lighter weights when weightlifting or they'll do fewer repetitions, and they'll move at their own pace.
As they get fitter and more experienced, CrossFitters will increase the weight, reps, and complexity of the exercises. The scalability of CrossFit workouts ensures they never lose their effectiveness.
The benefits of CrossFit
Do you want to feel better AND look better? Want to increase your confidence, get stronger, have more stamina, and generally feel awesome all around? Does getting rid of that nagging back pain sound good? Good news! CrossFit can help with all that.
Burn Fat, Build Muscle
CrossFit WoDs will help you build muscle and burn fat at the same time! Pretty soon, old friends you haven't seen in a while will be asking "have you been working out?"
Heart Health
Start CrossFit and your heart (and your doctor) will thank you. Improved cardiovascular health is one of the key benefits of CrossFit.
Build Your Core, Save Your Back
Nearly everything you do in CrossFit will strengthen your core…all the muscles that wrap around your torso from your hips up through your chest. Strengthening your core will do wonders for your back.
Mobility and Balance
When was the last time you could bend over and touch your toes? Can you sit comfortably all the way in the bottom of a squat? After a few months of CrossFit, you'll be more mobile than you have been in a while…maybe ever.
Built-in Accountability
One of the benefits of CrossFit is the built-in accountability that comes with being a member of a box (CrossFitters use gym and box interchangeably). When you're part of a CrossFit community, you're held accountable to show up for your workouts and to push yourself. This community aspect can be great, especially when you're struggling to stay motivated.
Mental Toughness
Most CrossFit workouts are intense. The intensity is the "secret sauce" that gets us the results we want. In addition to the physical benefits, CrossFit WoDs by their nature also build mental toughness…doing one more rep when all you want to do is quit.
The risks of CrossFit
When done under the eye of skilled coaches CrossFit can change your life, but that doesn't mean there aren't risks.
Injury
The injury rate for CrossFit participants is similar to other forms of recreational sports and exercise.
The most common injuries in CrossFit are the result of overtraining. Too much volume, too much weight, and jumping ahead to versions of movements you're not quite experienced enough for are all things that could ultimately lead to injury.
Achy knees and sore backs and shoulders are often the results of doing too much, too soon.
The good news is repetitive stress issues are almost totally avoidable. Good coaches will know how to help you avoid overtraining and the injuries that come along with it.
Remember…more isn't better, better is better!
Burnout
Also known as too much of a good thing, it often goes something like this:
A new athlete decides to give Crossfit a shot and the first few classes are tough, but they're determined to stick with it. They start to see some progress and are feeling pretty proud of themselves.
But then something happens. They start to get burned out. The high-intensity workouts are just too much, and they find themselves skipping classes more and more often.
Before they know it, they've quit CrossFit altogether. And they're back to square one.
Avoid burnout by getting into the habit of attending class three to four times per week and not trying to rush the process by doing too much, too soon. Play the long game!
The risk of NOT training
The risks of not exercising are well-documented. Inactivity can lead to a number of health problems, including obesity, heart disease, and diabetes.
So, what's the bottom line?
There are risks associated with any form of exercise, but the benefits of CrossFit make it worth it for most people.
If you're looking for a workout that will challenge you physically and mentally, CrossFit is a great choice.
How to find the right CrossFit gym for you
Ask friends for recommendations
Whether you know it or not, you probably have at least one friend who is a CrossFitter. Ask them for their advice, then research their suggestions on your own. Use Facebook to cast a big net.
One thing to keep in mind when asking your friends for CrossFit gym recommendations…they're almost certain to tell you their gym is the best. Stay open-minded and remember the right gym for them might not be the right gym for you.
Do a Google search for "crossfit gyms near me"
Use Google to find CrossFit gyms in your area, then check out each gym's Google My Business profile. Most well-run businesses will have a GMB profile that includes reviews, photos, and business information.
You can also check out each gym's website and social media accounts to get a feel for their vibe.
Beware the gym that doesn't seem to have paid much attention to its presence on the internet.
Check out the CrossFit website to find a gym
Map.crossfit.com shows every CrossFit affiliate in good standing. Use the map to zoom into your area.
Visit a few CrossFit boxes in person
After you've done all your research and narrowed your list down a little bit, contact the gyms and make appointments to visit in person.
When you visit, watch closely and pay attention to the coaches and the other athletes. Are they friendly and welcoming? Do the coaches seem knowledgeable and experienced? Is the environment safe and clean? Does the equipment seem to be well maintained?
Some questions to ask the owners of the gyms you visit:
What is the gym's policy on beginners?
Most gyms with owners who care about setting their new members up for long-term success will require them to complete some form of Foundations course before starting to attend regular group classes.
Each gym's onboarding process will be a little bit different, but in general, they will consist of 1-5 private sessions with one of the gym's coaches. During these sessions, the new member will be taught the basic movements used in CrossFit and the coach will assess them for any injuries or restrictions the rest of the staff should be aware of.
Do they prioritize proper form?
CrossFit training should always emphasize proper technique over everything else. Never lose sight of this is a key part of staying injury-free!
What are your hours?
Is the location open only during designated class times, or are they open all day? What about weekend classes?
How experienced are the coaches and what are their CrossFit credentials?
There are three levels of CrossFit coach/trainer: CrossFit Level-1 Trainer (CF-L1), CrossFit Level-2 Trainer, Certified Crossfit Trainer (CF-L3), and Certified CrossFit Coach (CF-L4).
In general, the higher a trainer's credentialing the greater the knowledge they have about how to use CrossFit to help people.
All trainers are required to have at least attained the CF-L1 to coach group CrossFit classes. Fewer than 1% of all CrossFit coaches hold the CF-L3.
Does the gym offer any nutrition or lifestyle coaching services?
Proper diet and physical fitness go hand in hand. Ask the owner if they offer any support for helping with your nutrition. Is their nutrition program a formal add-on membership that includes things like meal plans and one-on-one counseling sessions? Or is it more casual?
Conclusion
CrossFit is a high-intensity workout that has become popular in recent years. It can be tailored to any fitness level, making it a good choice for beginners and experienced athletes alike.
So is starting CrossFit the right choice for you?
We have a saying…CrossFit is for EVERYONE! If you're looking for a challenging workout that will help you burn fat and build muscle, Crossfit would be a great choice. Just be sure to find a good gym with experienced coaches to get the most out of your experience.
FAQ
How much does a CrossFit gym membership cost?
Most CrossFit gyms have month-to-month memberships that are attendance-based. For example, a twelve class per month membership will cost less than a sixteen class per month membership. Most will also offer a membership that allows unlimited attendance. Some gyms will offer your first workout free.
I'm not in shape. Can I still do CrossFit?
Yes! One of the great things about CrossFit is that it can be scaled to any fitness level. The workouts can be modified to make them easier or more difficult, depending on your needs.
What should I wear to CrossFit?
You should wear clothes that are comfortable and allow you to move easily. Avoiding baggy clothes is a good idea, as they can get in the way of your movements. Many people prefer to wear workout shorts and a t-shirt or tank top. You will also need to wear sneakers.
What kind of equipment do I need for CrossFit?
In most cases, all you will need is a pair of sneakers and comfortable clothes. As you get more experienced, you might want to buy your own jump rope. The gym will provide any other equipment you'll need!
About the Author
Edward Getterman is a Certified CrossFit Trainer (CF-L3) and the owner of Twin Bridges CrossFit in Waco, Texas. If he can't be at the gym or at home, he'd prefer to be at Walt Disney World. He loves deadlifts, hates running, and believes above all else that CrossFit is for everyone.